National Energy Action (NEA) is the national fuel poverty and energy efficiency charity that works across England, Wales, and Northern Ireland to ensure that everyone in the UK can afford to live in a warm and safe home.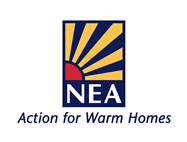 We aim to improve access to energy and debt advice, provide training, support energy efficiency policies, local projects and co-ordinate other related services which can help change lives. NEA's campaigning and policy work seeks to channel the in-house expertise gained from our delivery and research work in order to better inform national policies and policy makers to end fuel poverty across the UK.
Understanding the links between water and energy, in 2019 we launched a new programme of work titled 'People Living in Water Poverty and Fuel Poverty'. The programme aims to establish an industry acknowledged definition of water poverty, and, understanding the links between water and fuel poverty, explore regional and national partnerships and projects to deliver positive outcomes for customers struggling with their utility bills.