Vyntelligence's simple-to-deploy, award-winning SmartVideo AI and Digital Work Assurance platform empowers frontline workers and customers to capture short video data using their mobile. Their pioneering SmartVideNotes technology enables remote experts and control tower personnel to make early decisions based on AI-powered recommendations on the next actions.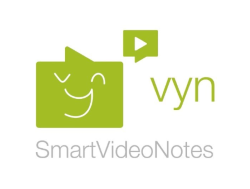 The patented AI-driven technology is delivering remote work assurance for leading global businesses in the Green energy, construction, telecoms, utilities and manufacturing industries. Vyntelligence helps clients realise 10x ROI by rapidly improving first-time-right metrics, saving field visits and delivering an improved customer experience in addition to deploying new and differentiated solutions.
Headquartered in London, Vyntelligence is leading sustainable innovation for global businesses in the water, energy and telecom industries such as NWL, Engie, EDP and Openreach. Vyn has been granted US patents for Smart Data Capture, Ranking and Delivery of Insights. Vyn and Vyntelligence are registered trademarks of humanLearning Ltd.