Northumbrian Water transforms summer festival into online extravaganza.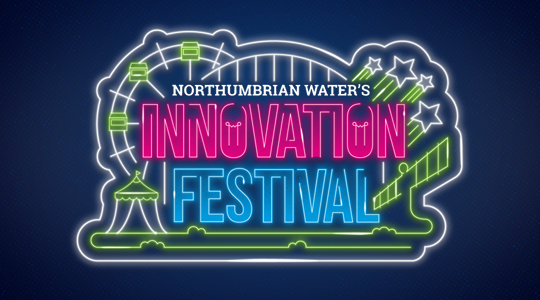 In response to the challenges faced from COVID19 the water company is hosting its entire Innovation Festival completely online for the very first time.
Social distancing restrictions meant that it would no longer be possible to hold this year's event at Newcastle Racecourse and so the festival, that had been planned for July and was due to see more than 3,000 people from all across the world gather, was forced to be postponed.
Not wanting to let festival attendees down, for what would have been the company's fourth yearly event, the Northumbrian Water innovation team have instead drawn up plans to hold the four day event completely online and in a digital capacity.
Festival attendees will still be able to take part in design sprints, data hacks and daily dashes and work together to solve real world issues and come up with ideas and solutions to big societal problems.
They'll also be able to experience lightning talks, networking events, Q+A sessions and tech demos through live streams and catch-ups.
The feel-good festival spirit will still be present and created virtually with wellbeing sessions, group exercise classes, pub quizzes, bingo, comedy, live music, celebrity appearances all taking place at the touch of a button.
Festival organiser and Northumbrian Water's IS director Nigel Watson said:
"COVID19 has completely changed peoples' lives and caused businesses and organisations across the globe to rethink how they do things. And that's what we've done here.
"This is us adapting, flexing and being innovative with our innovation festival. We've changed it, improved it and we're making it work for people, right now.
"Our partners, sponsors and our customers all told us that they wanted it to go ahead and so, taking inspiration from concerts and other large events, we've made the choice to switch the whole event to digital.
"It means that people from all across the globe can get involved in the festival in a safe and accessible way. It opens up lots of brand new opportunities for us both in terms of the way we work and what we can look to achieve.
"The whole world is facing huge challenges right now and it's more important than ever that we come together to find new ways of working, new solutions, to solve these problems and build back better. Hopefully Innovation Festival 2020 can help with this and I'm really excited to see what happens".
The new digital Northumbrian Water Innovation Festival 2020 will take place between the 14-17 September.
Attendees can find out more about the festival and register their interest on the Innovation Festival website at > www.innovationfestival.org